Posté par diaconos le 19 mai 2019
I give you a new commandment : to love each other
In this excerpt from John's Gospel, Jesus' last words to his disciples during the Last Supper were precisely called his spiritual testament. Jesus does not give his disciples a final set of detailed precepts or recommendations as to what they should or should not do. So when he tells us: « I give you a new commandment: it is to love one another » (Jn 13:34a), it has a doctrinal meaning: it is much more a mission than a command.
Loving each other is the mission we received from Jesus.  And it is by this way that people will know that we are his disciples; it is by this way that we will be his witnesses. « If we love each other then God dwells in us » Jesus also said: « If you love me, you will keep my commandment, and my father will love you; we will come and make our home with you. « (Jn 14,23) Yes, dear friends, dear friends, true love is a real presence of God! To feed, clothe, visit, care for those who are going through difficult times (illness, loss of employment, precariousness, abandonment…) is to meet Jesus who is present in those people who need me and whom I serve. (Mt 25, 31.46)
And Jesus insisted: « As I have loved you, so you also love one another » (Jn 13,34b) Love like Jesus! It is to stand at the feet of one's brothers and sisters to wash their feet, a gesture of the most humble service. Jesus made this gesture to his disciples on the evening of Holy Thursday, when he told us the essential things. If you really want to become his disciple, you must do as he did, the Master: wash your brothers' feet.
This means that fraternal love is concretely translated into service. And two series of Jesus' Words, the Beatitudes and the Last Judgment, focus on the « i's »: to serve God, to serve Christ is to serve the poor. The sign to which the disciples of Jesus are recognized is not only the Mass. « What will show everyone that you are my disciples, Jesus tells us, with authority, is the love you will have for each other »
To give to the thirsty, to eat to the hungry, to give a garment to those who cannot buy it because it is too poor, to make a friendly visit to a sick person…, is to love in truth, to meet God himself ! The demands of such love can seem disproportionate and leave us in despair: we will never succeed ! « As I have loved you, love one another » – Jesus says to each one of you: Because I love you, and I give you the infinite love of my Father, let yourself be loved like a child who lets himself be taken in the arms of his mother and father.
Come to me. Come to me. If you come to me, I will be able to pour into you the power of Love itself, which is God. In this way you will find the strength to go beyond your abilities and you will be able, day after day, to learn to love others, just as I love you. Yes, Lord, I want to come to you, for you have the words of eternal life.
Amen.
Michel Houyoux, permanent deacon
Exte

rnal link
◊ Orthodox church in Amerika : click here →Love of Neighbor
♥

Love of God and love of neighbour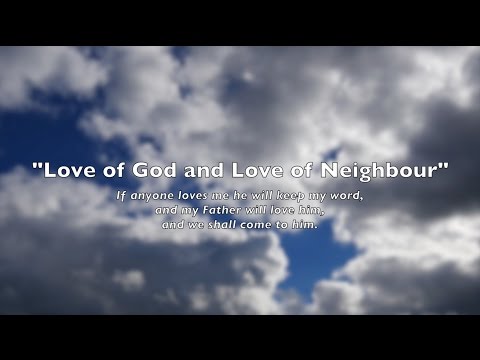 Publié dans homélies particulières, Religion, Temps pascal | Pas de Commentaire »