Posté par diaconos le 17 février 2022
#  One of the main laws of Judaism is to love the Lord « with all your heart, with all your soul and with all your strength ». Another commandment concerning love is you shall love your neighbour as yourself. Judaism distinguishes three types of love: physical, charitable and spiritual. Physical love is manifested in the Creation story where Eve is born from a rib of Adam. Christianity defines itself as the religion of the Incarnate Word and of revealed love.
Christian revelation is based on this : God is Love (1 Jn4, 8,16). This statement constitutes the heart of the Christian discourse on God. God interpreted as love; this is the Christian idea. According to Laurent Gagnebin, in religions in general, God is first and foremost understood as a terrifying, fearsome God, far removed from the God of love revealed by Jesus Christ and which still characterises the whole of Christianity today.
For some, love of neighbour is defined as an inner force that drives a human being to seek peace and share it with others. The desire for love is expressed in the desire to be with the other(s), to accept to receive and to give, to dialogue, to live with, to understand, to accompany, etc. According to Saint Paul: « If I have no love, I am nothing. Love is patient, it is full of kindness; love is not envious, it does not boast, it is not puffed up with pride. It does not do anything dishonest. It does not seek its own interest, it is not angry, it does not suspect evil.
He does not rejoice in injustice, but rejoices in the truth. It excuses all things, believes all things, hopes all things, endures all things. Love never dies. The love of which Christianity speaks is sometimes called charity (from the Latin caritas), a term which distinguishes it from erotic love or friendship, and which, in its original religious sense, has a transcendent dimension. It does not depend on feeling, but on the will40 in connection with the intelligence.
 Benedict XVI proclaims : « Only in truth does love shine forth and can it be lived with authenticity. In Mahayana and Vajrayana Buddhism (Vietnamese Buddhism, Chan, Zen, Lamaism), Love is one of the four qualities of being that the practitioner must develop, one of the « Four Infinites » or « Four Incommensurables »: love, compassion, joy and equanimity.
From the Gospel of Jesus Christ according to Luke 
At that time Jesus said to his disciples: « I say to you who hear me: Love your enemies, do good to those who hate you. Wish good to those who curse you, pray for those who slander you.  To him who strikes you on one cheek, turn the other cheek. To him who takes your cloak, do not refuse your robe. Give to anyone who asks you, and to anyone who takes your goods, do not ask for them.
  What you want others to do for you, do also for them. If you love those who love you, what gratitude do you deserve ? Even sinners love those who love them.  If you do good to those who do good to you, what recognition do you deserve? Even sinners do the same.  If you lend to those from whom you expect to receive in return, what gratitude do you deserve ?
Even sinners lend to sinners so that they may be repaid. Instead, love your enemies, do good and lend without expecting anything in return. Then your reward will be great, and you will be sons of the Most High, for he is kind to the ungrateful and the wicked.  Be merciful as your Father is merciful. Do not judge, and you will not be judged; do not condemn, and you will not be condemned; forgive, and you will be forgiven.
Give, and it shall be given to you: a full measure, pressed down, shaken together, overflowing, shall be poured into the skirt of your garment; for the measure which you use for others shall be a measure for you also. Jesus told his disciples that they would be hated and reviled, and then he pronounced curses on the world, the enemy of God. His listeners could have concluded from this that he would also do this for you. (Lk, 6, 27-38)
Commandment of love

Love those who hate you.

They were allowed to hate their enemies. Jesus, turning to them, warned them of their thoughts with these words: « But I say to you who are listening… » (Lk 6.27). He returned from the absent rich to his real listeners. Jesus enunciated that profound precept which is beyond the power of the natural man : « Love those who hate us. This commandment of love, which could only be fulfilled under the new law of the Gospel, was motivated in a different way in Matthew  where it is directly opposed to the spirit of the old law, and related to the love of the children of God for their heavenly Father.

This was how Jesus presented this profound contrast in the Sermon on the Mount. « If anyone wants to take away your tunic, leave him the cloak also. He assumed a creditor who first seizes the tunic, which is of lesser value, and then, if he is not paid enough, demands the cloak. Jesus, who until now had been speaking in a general way, in the plural, suddenly changed to the singular, in order to oblige each of his listeners to apply these words individually. It is the same in Matthew.

 To love, to do good, to lend, without expecting anything, is to act in the spirit and love of God himself, to prove to ourselves and to others that we are his children. This is the divine example that Jesus proposes to us, even in our dealings with the ungrateful and the wicked. Matthew gave as proof of God's equal mercy to all : « He made his sun rise and poured out the rains of heaven on all without distinction.

The reward promised for doing what Jesus asks of all is that they will not be judged or condemned but absolved by God himself. The measure of his judgment is drawn from the very heart of the people : « For you will be judged with the judgment you judge, and you will be measured with the measure you measure » (Mt 7, 2).

The mercy of God, such is the sublime model that Jesus proposed to his disciples, was to become sons of this Father, being merciful like him; and this was their great reward. (Mt 5, 48) concludes the first part of his discourse with a similar thought, but expressed in different terms : « Be perfect, therefore, as your heavenly Father is perfect ».

Luke recalled the goodness or mercy of God towards all, and it is this special perfection that he exhorts us to imitate and attain. This merciful spirit is also always ready to give; and by this very fact it attracts from God the richest gifts of his grace. This last thought is illustrated by a striking image, the multiplied epithets of which are intended to depict the richness of the divine liberality.

The expression ' in your', is borrowed from the shape of the oriental costume, which, being very loose on the chest and tightened by a belt, provides a kind of pocket of rather large capacity: Jesus then said : « Present the cloak which you have on you and hold it. And she held it up, and he measured out six parts of barley and put it on her, and she went back to the city. (Ruth 3, 15)

Deacon Michel Houyoux

Any comment you may have on this article is welcome and will be published. Please write it in the box below the post.
Links to other Christian websites
◊ Deacon Lincoln : clid here to read the paper  →  Seventh Sunday of Ordinary Time Year
◊ Young Catholics : clid here to read the paper  → 7th Sunday in Ordinary Time
♥ 

Pastor David Dii  : « LOVE THOSE WHO HATE YOU – LIFE IN THE SPIRIT MINISTRIESS »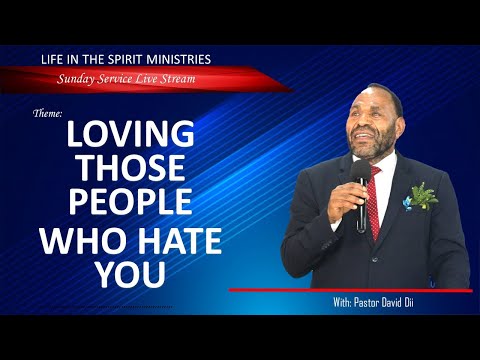 Publié dans Catéchèse, La messe du dimanche, Page jeunesse, Religion, Temps ordinaire | Pas de Commentaires »